Edan Haddock on Creativity in Outbound Recruitment
"it's like you're just constantly on this hamster wheel every single day, and then if you're needing to do something creative….it's really difficult"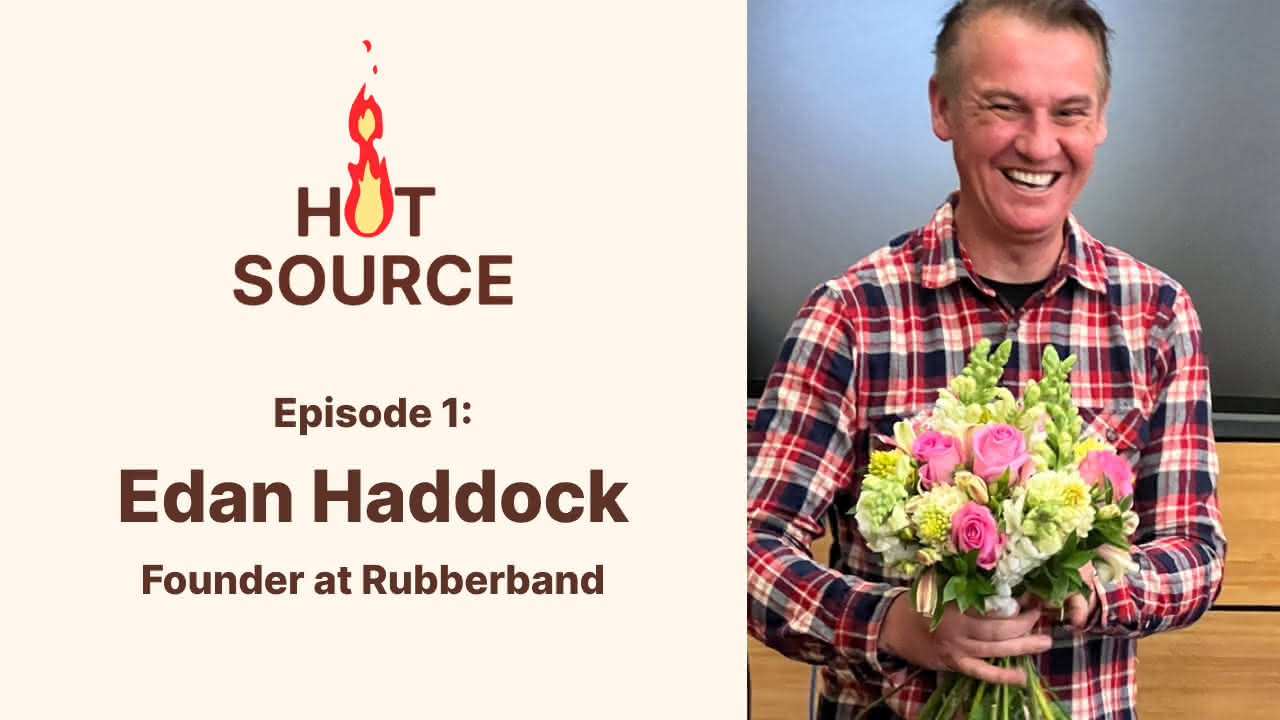 Edan Haddock is a talent acquisition specialist who has always had an eye for creativity. As a florist in his early career, he has been able to bring aspects of his creativity into the talent scene. He's the Founder of Rubberband & Createfulness and is currently working with Crew in a consulting capacity. Edan sat down with us to chat about the importance of creativity within talent acquisition, and how he creates interesting outreach that drives excellent response rates.
Or listen with your favourite podcast provider.

[creativity] has become such a core part of what we do because we're in a talent crisis, we need to stand out from the pack
Edan's outreach messages are anything but standard, focusing on quirkiness and letting his personality shine through.
when I try and think of content that I'm sharing, particularly when it comes to outbound campaigns, I think about [how to get your] personality in there
Edan's found that when compared to his previous approach, which he described as generic, this method returned far better results.
these candidates are going to be receiving dozens of emails, so you've got to stand out. You've got to seem a little bit silly, a little bit fresh and for it to have your personality in there. Otherwise…people aren't going to respond.
Gaining inspiration from the reputable Simon McSorely, Edan was prompted to question how he could let creativity shine within his outreach. Although he found it difficult to craft these messages initially, he quickly began to realise the benefits. Edan highlights this is an area of talent that can be hard to work into your everyday – a sentiment echoed by the wider community.
I think talent acquisition professionals have a mountain of work to get through everyday…it's like you're just constantly on this hamster wheel every single day and then if you're needing to do something creative…it's a really challenging thing to do
To get the creative juices flowing, Edan suggests exploring options whilst your brain isn't focusing on your day-to-day work. Edan hosts workshops where he leverages his background in floristry to promote creativity as one method of changing his mindset. He suggests taking moments in your day to channel your creative side.
cooking is great for creativity, you've got fragrances, you've got colour, you've got texture. It's an amazing time to actually start thinking of these sorts of things. If you're at your computer and you've got 20 emails to respond to…you're not going to be able to be creative. You need to step away.
---
Listen on your favourite podcast provider.
Want more Hot Source? Subscribe to our Hot Source Newsletter so you never miss an episode!
---
Continue reading