Vincent Chi on catfishing recruiters (and grabbing candidate attention)
"within the first 24 hours of this [fake] profile being created, it had received 6 messages"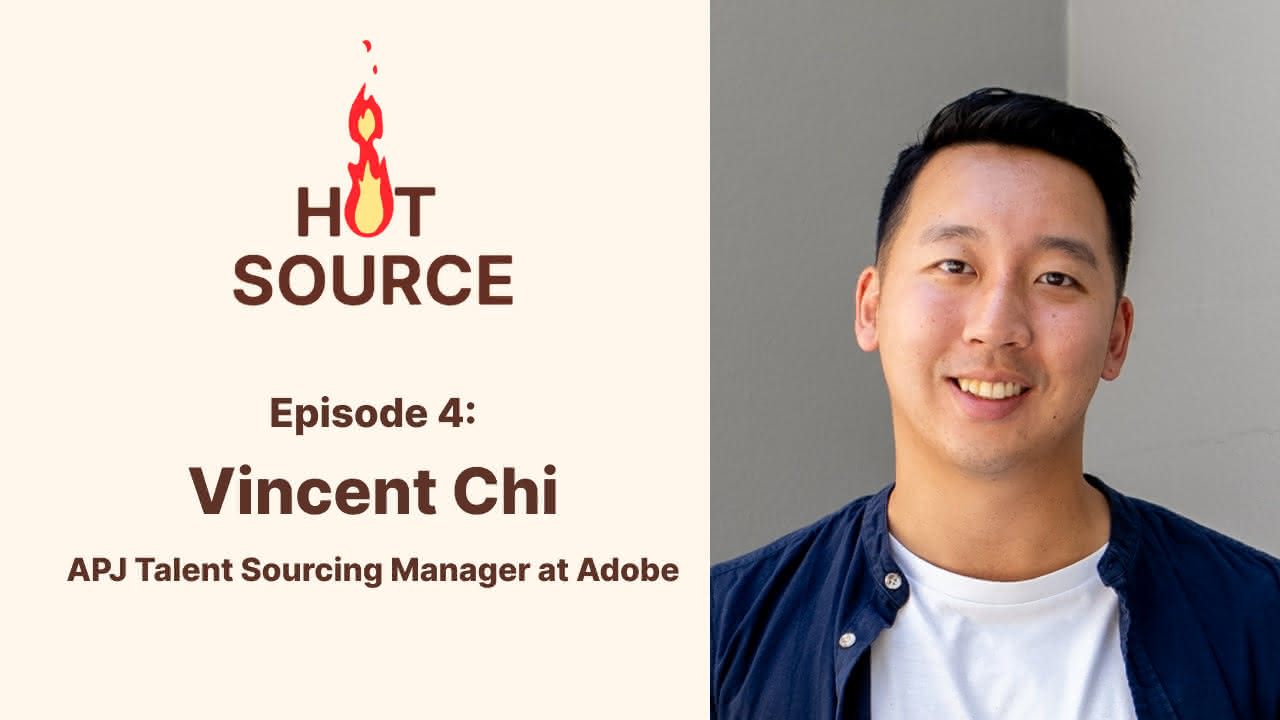 Vincent Chi is the APJ Talent Sourcing Manager and Executive Search at Adobe. After 7 years working at Woolworths, where he developed his career from Customer Service to a Strategic Sourcing & Talent Acquisition position with Woolworths he joined Adobe.
Vincent chatted with our Co-Founder Mike about the statistics that drove him to make a fake LinkedIn profile to validate data, test his theories and discover an important engagement strategy.
Or listen on your favourite podcast provider.
Last year, Vincent attended a sourcing conference where he heard some interesting statistics about how often high-demand candidates are messaged. He set out to verify the data himself by attempting to re-create the candidate experience with a (now deactivated) fake engineering LinkedIn profile.
On average, an engineer professionals received 37 InMails a month….how do we position ourselves to be that one InMail that actually stands out in the crowd, and get the click-through

Vincent Chi
By Vincent's calculations, that is 200 emails from LinkedIn a month. Worse still, these types of candidates spend a very limited amount of time on LinkedIn — averaging only 18 minutes a month.
One, the target audience that we're reaching out to is absolutely time-poor. Two, they are getting overwhelmed with messages. Three, they're using their phone as their main tool of checking correspondence. How do we tailor our InMail so we can reach this target audience?

Vincent Chi
Vincent noticed that the preview text, the limited text that appears on your mobile before you open a message, was being wasted.
Preview text messages can fit 34 letters … without clicking into the InMail, is all people see when scrolling through their phone. By the time the person on the phone has finished reading [your greeting] you've used up anywhere between 20 and 30 letters.

Vincent Chi
As a result, Vincent readjusted his outreach style to capitalise on this prime real estate by putting personalisation before greetings in his messages and saw a 15% increase in response rates.
You can find an example of an outreach message that capitalises on preview text in our Chrome Extension.
---
Listen on your favourite podcast provider.
Want more Hot Source? Subscribe to our Hot Source Newsletter so you never miss an episode!
---
Continue reading